Upcoming Events
(click event for details)
Merit Badge University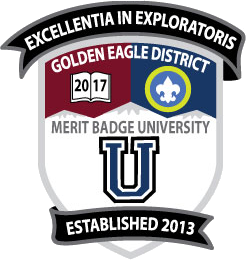 The Golden Eagle District is hosting its fifth annual Merit Badge University.
October 28, 2017

Suzanne Middle School
525 Suzanne Rd
Walnut, CA 91789
Map
The cost for this event is $15.00, plus any class materials fee. Lunch can be purchased for an additional $5.00 - otherwise you are welcome to bring your own.
The following Merit Badges will be available:
Be aware that most Merit Badges have pre-requisites. Review the Event Guide for all necessary information (location, schedules, registration, pre-requisites, etc).
Registration is now open! Follow the registration instructions given in the Event Guide referenced above.
Silver Beaver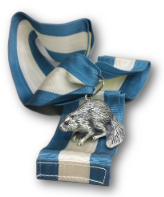 Established in 1931, the Silver Beaver Award is presented by the Boy Scouts of America, to volunteers for distinguished service to youth within the council. It is the highest award that a local council may present to a volunteer.
The deadline for nominations is 5:00p, October 13, 2017!
Refer to our expanded Awards page for additional information, including the nomination form.
Friends of Scouting

Current: $13,368
Goal: $24,168
"Friends of Scouting" is an annual direct-solicitation campaign, reaching out to Scout families, service organizations, and businesses. Friends of Scouting is the council's largest source of income.
It costs our council $250 to provide one year of quality program for each Scout.
What does a Friends of Scouting investment provide?
Recruit and train youth and leaders
Provide assistance to those in need
Keep our camps and activities affordable
Enhance programming and facilities
Provide communication tools for volunteer leaders
The success of Scouting depends on those who support it. Please help Scouting provide the resources necessary to make sure every youth can benefit from Scouting's fun, exciting, adventure-filled activities that foster character, honesty, respect and life-long values.
Your generous tax-deductible gift to the Boy Scouts of America provides direct funding for educational initiatives and active learning that program fees alone do not cover.
Please consider making your donation today!
Welcome
The Golden Eagle District of the Greater Los Angeles Area Council proudly serves scouting units in the Eastern San Gabriel Valley communities of City of Industry, Hacienda Heights, La Puente, Rowland Heights, West Covina, Valinda, Diamond Bar, Pomona and Walnut.