Advancement : Eagle Scout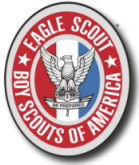 The Golden Eagle District has a team of dedicated volunteers to serve as "Eagle Board of Review Members". All enquiries should be directed to Mr. Huber Bongolan for further assistance. Such requests may include, but are not limited to, eagle project approvals or scheduling of an Eagle Board of Review.
All Eagle Candidates, please take note of the following schedule:
Project approvals occur on Wednesdays
Eagle Boards of Review occur on Fridays

While it may be possible to schedule appointments on other days, this should not be the expectation.
An impending eighteenth birthday does not constitute an "emergency" situation.
District Guidelines for Eagle Advancement
Eagle Related Documents